Dry Ice Plus in collaboration with ENSEN company, investing in research and development, has created a special software, which when recording some specific variables it finds the exact amount of dry ice needed, in order for the transported products to arrive in perfect condition to their destination.
This innovation provides an extra potential to our trusted customers. It
allows them to send their products (refrigeration and freezed) without the need for mechanical cooling support, wherever they want in the world, safely and with much reduced cost.
In this way the shipments either of samples or entire orders, especially for distant destinations, can be made safely with low cost and above all, knowing that the products will reach their destination in perfect condition.
The expertise we have gained regarding product transports as well as our vast experience of working with the largest companies in Greece, helping them to pack and send their products to every continent, makes Dry Ice Plus the most credible strategy collaboration for your company.
Cold Chain Management
The cold chain refers to the transportation of temperature sensitive products along a supply chain through thermal and refrigerated packaging methods and the logistical planning to protect the integrity of these shipments.
Temperature control in the shipment of foodstuffs is a component of the industry that has continued to rise in necessity with international & local trade.
The success of industries that rely on the cold chain comes down to knowing how to ship a product with temperature control adapted to the shipping circumstances. Different products require different temperature level maintenance to ensure their integrity throughout the travel process.
Temperature Standards for Cold Chain Management
Depending on the type of product being transported through the cold chain, specific temperature standards are enforced.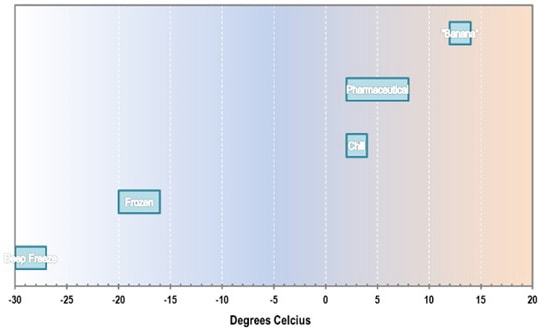 Five temperature standards are among the most prevalent:
1. Deep freeze (-28 to -30 Celsius). The coldest temperature range that can be maintained by conventional refrigerated units such as reefer. Mostly for transporting seafood.
2. Frozen (-16 to -20 Celsius). Mostly for transporting meat.
3. Chill (2 to 4 Celsius). Refers to the standard temperature in a refrigerator and is commonly used to transport fruit and vegetables as it confers optimal shelf life.
4. Pharmaceutical (2 to 8 Celsius). Relates to the temperature range most pharmaceutical goods, like vaccines, are transported.
5. Banana (12 to 14 Celsius). Relates to the temperature range that one of the world's most produced fruit is shipped to control its ripening.
Transportation & Warehousing Issues
During transport, a malfunction (or an involuntary interruption of power) of the refrigeration equipment can in a couple of hours compromise fhe cold chain.
Furthermore due to wear and tear or defective equipment, may offer an improper cold storage environment, namely poor air circulation and defective insulation at seals (such as doors). Drivers may also voluntarily shut down the refrigeration unit to save on fuel costs, leave doors open for too long during deliveries

During the loading, unloading or warehousing of a product, there are many potential situations where a cold chain can be compromised. For instance, a product can be left on the loading dock for an extended period until its is loaded on the local refrigerator.
Cold Chain Management with Dry Ice
Dry Ice can be used for the transportation of all products that need to have their temperature controlled, using dry transportation.
With the use of dry ice all five temperature standards (deep freeze, frozen, chill, pharmaceutical & banana) can be met for products transportation.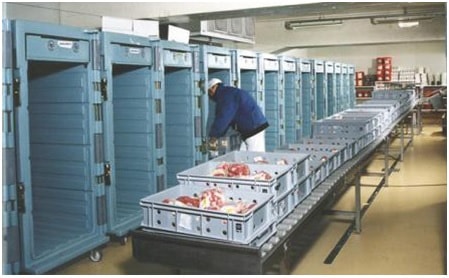 Vital component on the Cold Chain management with Dry Ice is the packaging.

Cryoboxes, available from 50-500lt.
There are two types of containers from different materials with different levels of thermal losses. 1) Cryoboxes and 2) Polystyrene boxes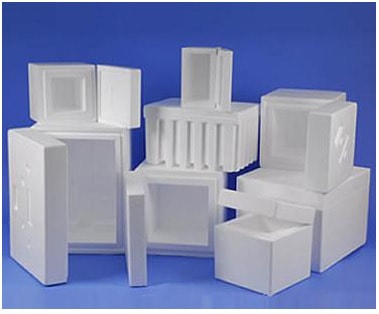 Polystyrene boxes, available from 10-50lt.
The handling of the products with the packaging is very simple. As soon as the container is filled with the product, dry ice is added on the dry ice drawer.

The advantages of the use of Dry Ice in the Cold Chain Management are:
Absolute control over the product temperature
No need of mechanical refrigeration
Cost of dry shipping less than the refrigerated shipping
Products have a time buffer from the time they get unloaded to the point that the will be stored again.
No temperature breach so no wasted products
Products with different temperatures can be shipped together in the truck
Dry Ice can last up to 7 days in a cryobox